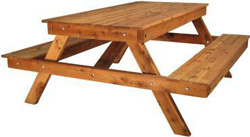 Millwood outdoor furniture is located in Perth Western Australia. Specializing in Australian sustainable cypress all the out door furniture is naturally white ant resistant.
Custom made and hand built the high quality industrial strength furniture combines style with practical long lasting attention grabbing furniture.
Used extensively in Perth harsh environment by a wide range of people and companies this great long lasting outdoor furniture will continue to give a great look and low maintenance style to any location.
Why not check out the huge range of standard and custom made furniture by calling Kelly or Tony on 089 3316170